Your New Cash Rewards Card
This is your spot for everything "Credit Card Conversion".
First, let's talk about why
Reward points. We're not going to sugar coat it. They can be confusing. To put it simply, your reward points gave you a certain number of points per dollar spent. Where it got confusing was trying to decipher what purchases allowed you to earn points, how many points you earned per purchase and when or how you could redeem them.
Yes, we agree - it was a lot.
On the other hand, with your Cash Back Rewards Card you will see money coming back to you instantly every single month - right into your savings, checking or paid back to your credit card!
Just to give you some perspective, let's say you spend $1,000 a month on your Cash Rewards Card. You would then get 1% or $10 back. While it may not seem like a lot, it really can add up throughout the year. That's $120 dollars at just 1% cash back. That doesn't even include the special promotions we'll be doing periodically where we'll increase your cash back percentage so you can earn even more!
So, while it can take years to build up points in a rewards program, and even longer to learn how to use them, we wanted to give you a card where you can instantly see money coming back to you every single month you use your new CASH REWARDS CARD.
Other benefits
We also wanted to provide you with a whole lot more convenience! You're now going to be able to manage your card and payments right through your It'sMe247 Online banking portal! You'll be able to:
View pending transactions
Complete cash advances deposited to your savings or checking
Make Payments and see them post in "real time"
What you need to know
Your credit card account number will be changing
You will be issued a new card
Your old card will no longer work after March 26th, 2023
You must redeem your "earned points" before March 26th when the Reward Program terminates
Your CASH REWARDS CARD statement will come as a separate page along with your regular statement or eStatement
If you pay your credit card by mail, you will now be sending your payments to:
Ripco Credit Union
PO Box 278
Rhinelander, WI 54501
Dates to remember
Use the following date flow-chart as a reminder of important dates throughout the conversion.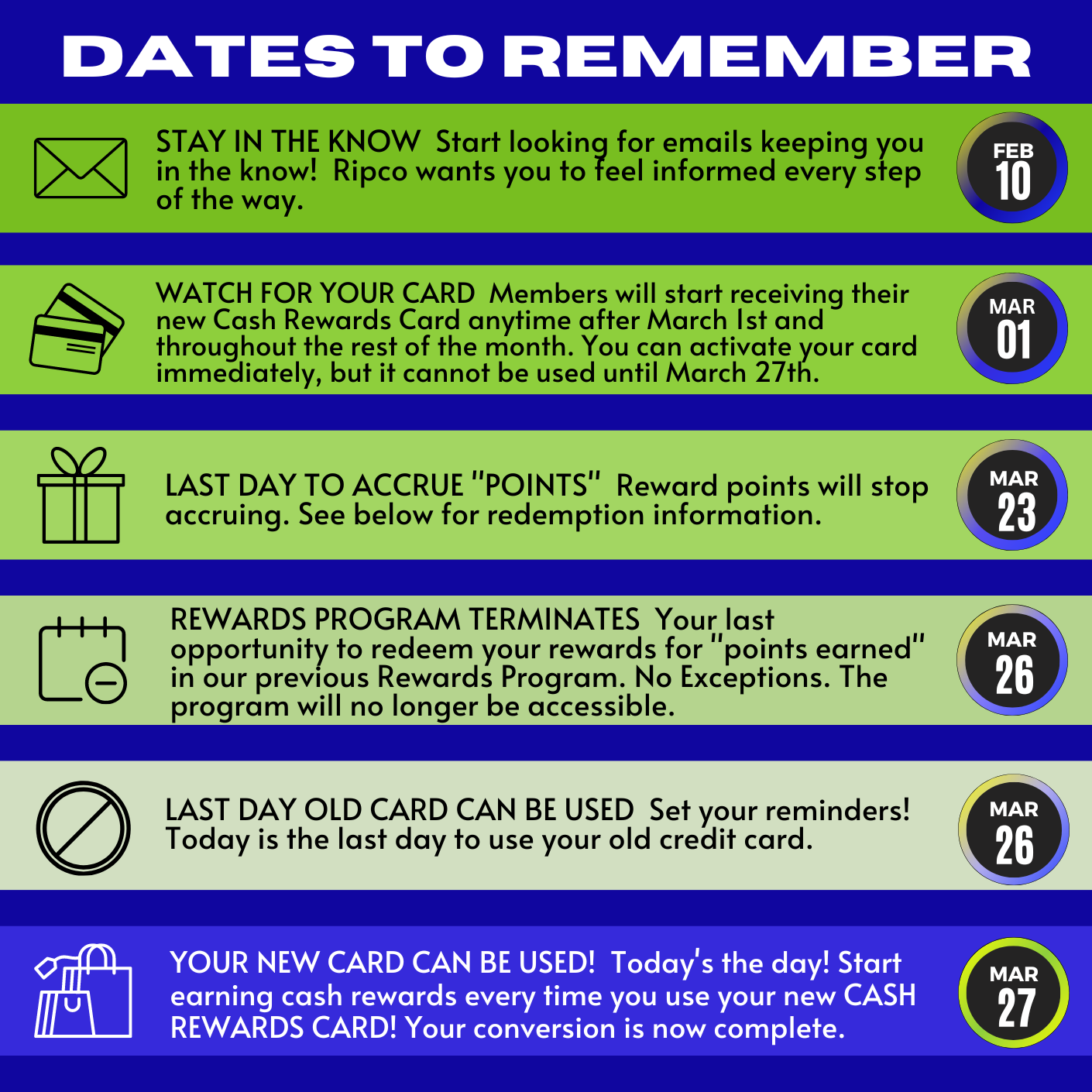 Earned points redemption
If you still have earned points that you need to redeem, follow this process to visit the Rewards Mall.
Visit ripco.org homepage and click on the My Ripco Credit card button or click HERE now.
Log-in as usual.
Click on the Rewards Button just above the Quick Links menu.
Click the next Rewards Button just below your available points.
Click the Submit Button on the redirect screen that comes up.
You will then be redirected to the Rewards Mall and can begin redeeming your earned points.