Make Purchases, Earn CASH!
Our Cash Rewards Visa Card is designed to help you earn rewards on your everyday purchases while enjoying a hassle-free experience. With your card you can earn cash back on all of your purchases, from groceries and gas to travel and dining out.
Cash Rewards Card benefits
Cash Back Rewards: With your new card, you will earn 1% cash back on all purchases. Additionally, we'll offer special promotions from time to time where you can earn even more cash back!
No Annual Fee: Unlike some other credit cards, Ripco's Cash Rewards Visa card has no annual fee, so you can enjoy the benefits of the card without any extra cost.
Worldwide Acceptance: Your new card is accepted worldwide, so you can use it wherever Visa is accepted.
Easy to Manage: Your new card is designed to be easy to manage and use, with convenient online access to your account for checking balances, viewing transactions, and making payments. In addition, you'll enjoy 24/7 customer service support.
Request an increase
Credit card resources
Report your card lost or stolen
To report a lost or stolen card, call 877-365-4800 and follow prompts.
Going somewhere?
It may seem an odd question for your Credit Union to ask, but there's a really good reason.
We never want you to be without access to your funds.
If we detect unusual activity on your account, it alerts our fraud department. If you typically use your credit card close to home, and a charge shows up somewhere else in the world, it could be a signal to freeze your account.
By letting us know your travel plans, we can ensure that you have access to your funds when you need them, wherever you may be.
If you're planning to use your Ripco Credit Union debit or credit card while traveling, and you provide us with your travel information; we can note it to your account.
Please allow at least 48 hours prior to your departure for us to make sure your card(s) are noted with your plans and will be available during that time.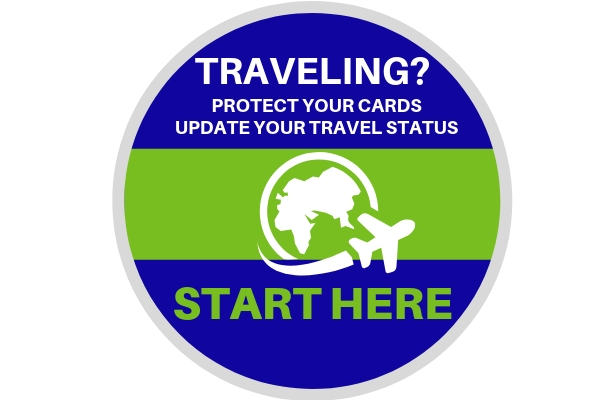 Credit card balances overwhelming?
Most of us have credit card debt, and often we owe even more than we are comfortable with.
One of the smartest and easiest things you can do when this happens; is to refinance your credit card debt into one easy to manage payment.
Doing this will often lower the interest rate, simplify the repayment process and give you back your control.