Paperless Purchasing
Debit Cards
Get access to your Ripco checking account virtually anytime and anywhere — without the hassles of writing paper checks. Our debit card can be used at grocery stores, gas stations, hotels, restaurants and anywhere else MasterCard is accepted.
Our debit card features two distinct designs:
Rhinelander's beloved Hodag
Eagle River's iconic bald eagle
Using your personal identification number (PIN) you'll also be able to access cash at almost any ATM worldwide. And best of all, there's no annual fee charged for this service.
Enroll in Debit Card Alerts
Register for Debit Alerts here.
You will need to have your Ripco debit card available to complete your registration. Once you've registered, if you need to make any changes, you will follow the same registration process all over again. There is no username or password involved.
Going Somewhere?
It may seem an odd question for your Credit Union to ask, but there's a really good reason.
We never want you to be without access to your funds.
If we detect unusual activity on your account, it alerts our fraud department. If you typically use your debit card close to home, and a charge shows up somewhere else in the world, it could be a signal to freeze your account.
By letting us know your travel plans, we can ensure that you have access to your funds when you need them, wherever you may be.
If you're planning to use your Ripco Credit Union debit or credit card while traveling, and you provide us with your travel information; we can note it to your account.
Please allow at least 48 hours prior to your departure for us to make sure your card(s) are noted with your plans and will be available during that time.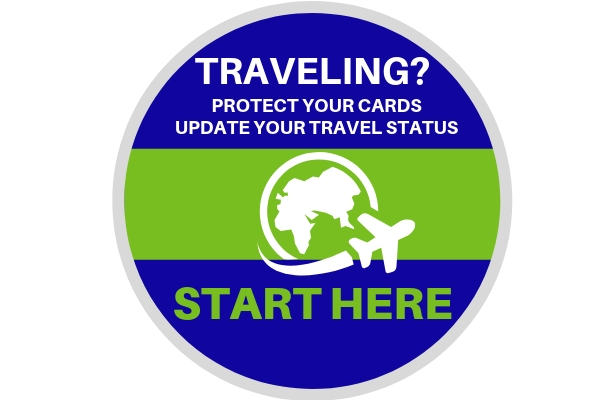 Debit Card Round Up Program
Ripco's debit card round up program totals up the amount of all debit transactions in a day and rounds it up to the nearest dollar amount. The change is then deposited to your Ripco savings account.
ATM Cards
Ripco also offers an ATM-only card: the STAR card. If you don't have a checking account but want to be able to access funds in your Ripco savings account at ATMs around-the-clock and around-the-world, our STAR card may be just what you're looking for.
No annual fees or transaction fees!
It's easy to apply for our ATM card. Ask any Ripco representative for an application today, or call 1-877-365-4800 or email us at ripco@ripco.org. You can also download the application as a PDF.
Change your debit card pin number by calling Pin Now at:
To report a lost or stolen debit card or ATM card, call: